FilterLogic FFL-152L compatible with LG LT600P
The FFL-152L from FilterLogic is a well-certified, quality compatible filter designed as an affordable alternative for the original LG LT700P series of cartridges.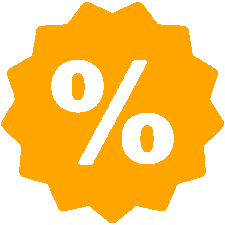 Multi Buy Discounts
On all products
Buy ANY 2 items get 5% discount
Buy ANY 3 or more items get 7.5% discount
The FilterLogic FFL-152L is a high-quality alternative to the commonly seen LG LT600P, otherwise known as part 5231JA2006A. Serving as an economic compatible cartridge, our own filter range offers consumers broadly similar performance and reliability without compromising on quality.  In fact, the FFL-152L filter holds NSF certification as well as WQA and full 1935:2004 compliance.
All FilterLogic filters are manufactured using high quality components, from the carbon blocks which do the legwork of the filtering through to the O-Rings, polymers and adhesives which make up the structural integrity.  Designed to remove chlorine, dissolved organics and sediment, the FFL-152L will leave water and ice tasting both crisp and refreshing.
The FFL-152L is compatible with the following LG fridge models: 
LFD21860ST, LFD21860SW, LFD21870ST, LFD22860SB, LFD22860ST, LFD22860SW, LFD22860TT, LFD23860ST, LFD23860SW, LFD25860SB, LFD25860ST, LFD25860SW, LFD25860TT, LFD25870ST,  LFX21960ST, LFX21971ST, LFX21975ST, LFX21980ST, LFX23961SB, LFX23961ST, LFX23961SW, LFX23965SB, LFX23965ST, LFX23965SW, LFX25950SB, LFX25950SW, LFX25950TT, LFX25960SB, LFX25960ST, LFX25960SW, LFX25960TT, LFX25961AL, LFX25961SB, LFX25961ST, LFX25961SW, LFX25971SB, LFX25971ST, LFX25971SW, LFX25975SB, LFX25975ST, LFX25975SW, LFX25980ST, LFX28977SB, LFX28977ST, LFX28977SW. 
Please note this is not a full list of the compatible models so please do check your manufactures manual before purchasing this filter.