Haier RF-2800-13 Water Filter
This cartridge has been discontinued by the manufacturer and is no longer available. We do, however, have a like for like compatible in the FilterLogic FFL-110B which performs to the same level as the original filter.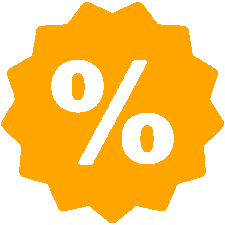 Multi Buy Discounts
On all products
Buy ANY 2 items get 5% discount
Buy ANY 3 or more items get 7.5% discount
This original Haier 0060218743 replacement filter is designed to fit Haier, Rangemaster DXD910 and Baumatic fridges.

Whilst it looks similar to the Bosch UltraClarity, there are minor differences between the two so please do refer to your owner's manual to ensure you are choosing the correct filter for your  refrigerator.  
This cartridge uses a block carbon element to remove chlorine, sediment and dissolved organics from mains water, leaving fresher, cleaner water and ice being dispensed from your refrigerator.  It has been certified to NSF/ANSI standards 42 and 53.

The cartridge life is 6 months or 2839 litres of water.