LG LT1000P ADQ74793501 replacement refrigerator water filter
A genuine replacement filter from LG, the LT1000P (part no. MDJ64844601) filters chlorine taste and odour as well as reducing lead, mercury, asbestos and benzene to provide great tasting water and ice.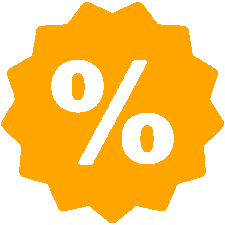 Multi Buy Discounts
On all products
Buy ANY 2 items get 5% discount
Buy ANY 3 or more items get 7.5% discount
An original OEM filter, the LT1000P is compatible with a range of LG French door side-by-side refrigerators. It is usually situated in a compartment in the top left hand side inside your fridge and can replaced in a matter of minutes.
Its effective filtration gives you water which is the same quality as bottled varieties without the matching price tag.  As well as reducing chlorine taste and odour, it also removes common contaminants such as iron and particulates.  What's more, as a pharmaceutical filter, it will also reduce some medication contaminants not treated by current municipal water treatments.
This filter should be replaced ever six months or 200 gallons, whichever comes first.
The LT1000P is suitable for the following LG fridge models:
LFXC24796D, LFXS30796D, LFCS28768S, LFXC24796S, LFXS26596M, LFXS26596S, LFXS27466S, LFXS28566, LFXS28566D, LFXS28566M, LFXS28566S, LFXS28596D, LFXS28596M, LFXS28596S, LFXS28968D, LFXS28968S, LFXS30796S, LMXC23796D, LMXC23796M, LMXC23796S, LMXS28626D, LMXS28626S, LMXS30796D, LMXS30796S, LSFXC2496D, LSFXC2496S, LSXC22396D, LSXC22396S, LSXC22436S, LSXS26336S, LSXS26396S, LFCC22426S, LFXC22526D, LFXC22596M, LMXS28596D, LMXS28596M, LMXS28596S, LRFDS3006D, LRFDS3006S, LRFVS3006D, LRFVS3006M,LRFVS3006S, LRFXC2406D, LRFXC2406S, LMXC22526D, LMXC22596D, LMXC22596M, LMXC22596S,LMXS22526S, LRMDS3006D, LRMDS3006S, LRMTC2306D, LRMTC2306M, LRMTC2306S, LRMTS3006D, LRMTS3006M, LRMTS3006S, LRVFC2406D, LRVFC2406M, LRVFC2406S